ReadyLIFT® 2" x 2.5" High Payload SST™ Front and Rear Suspension Lift Kit For 2021-2023 Ford Bronco 69-21210
Regular price
$279.95 USD
Regular price
Sale price
$279.95 USD
Unit price
per
Sale
Sold out
ReadyLIFT® 2" x 2.5" High Payload SST™ Front and Rear Suspension Lift Kit For 2021-2023 Ford Bronco 69-21210
If you are a new Ford Bronco owner and are planning to outfit your new Bronco with overland or rock crawling adventure features, ReadyLIFT® has a new lift kit engineered just for you. Our new 69-21210 Ford Bronco "High Payload" 2" SST lift kit has been designed to meet the needs of Bronco adventurists who typically add lots of heavy aftermarket products such as rooftop tents, tools, refrigerators, etc. This new lift kit takes our standard Ford Bronco SST lift kit and adds additional rear lift height to compensate for additional cargo weight. The new 69-21210 2" SST lift kit is engineered for use on new Ford Bronco vehicles that do not have the Sasquatch package which includes Badlands, Wildtrak and First Edition models.
This kit is intended for Broncos operating regularly with payload - cargo management systems, rooftop equipment, steel bumpers, overlanding gear, oversized spare tires, etc. The kit provides approximately 2.5" of rear lift when the vehicle is lightly loaded.
The all-new 69-21210 SST lift kit provides 2" of lift using our popular CNC-machined aircraft-grade 6061-T6 billet Aluminum front and rear top mount spacers that are developed to help maintain the factory ride and handling. These new premium-grade spacers are designed to provide maximum lift height without creating ball joint or tie rod bind commonly found with inferior kits on the market. Our engineering team has developed the appropriate geometry to allow the suspension to work flawlessly throughout the suspension cycle and range of travel.
69-21210 is completely bolt-on and requires no modifications or cutting to install, all while providing a much improved overall aggressive stance with additional rake included to better accept heavier cargo weight. Two inches of front lift allows the new Ford Bronco owner to take advantage of the increased ground and tire clearance to run much larger wheels and tires. Our testing reveals that a 305/70R17 on a 17" wheel with +18 offset is the maximum size tire to run with no modifications or trimming required. 35x12.50 tire can be used with minor trimming and/or front crash bar removal. (Does NOT fit Sasquatch Package equipped vehicles, Badlands, Wildtraks, First Edition)
305/70R on 17x8.5 +18 Offset
(MAX WITH TRIMMING) - Tire: 35" x 12.5" Wheel: 9" wide 0 offset
Tire Size Note: ReadyLIFT wheel and tire fitment recommendations are typically based on Wheel Pros wheels and Nitto tires. Due to product differences among tire manufacturers, tire specifications and dimensions including, but limited to, overall diameter, rolling diameter, tread width, aspect ratio, lug pattern, sidewall construction and inflation pressure, will vary meaningfully by tire and wheel manufacturer. Every tire and wheel combination should be test fit prior to installation. Consult your local installer to learn more about the right tire fitment for your application.
Ride Quality Note: When lifting a vehicle and installing aftermarket wheels and tires, a tire manufacturer's construction and material quality can alter vehicle ride quality. When increasing a vehicle wheel and tire size, most larger aftermarket truck and SUV tires are 10-ply (or more) E tires compared to typical OEM 6-ply C tires. This more rigid sidewall construction increases the perception of suspension stiffness often described as ride harshness. The ride, handling, traction, noise, fuel economy, and wear differences between All-Season, All-Terrain, Mud-Terrain, or Trail-Terrain type tires can be significant. Please take into account tire and wheel choice will generally have a meaningful impact on the ride & handling experience.
Features & Benefits:
• All-new "High Payload" design exclusively for non-Sasquatch package equipped Ford Bronco vehicles.
• Provides a two-inch lift increase over stock with extra rear lift height for heavy cargo support with no rear sag.
• Allows for up to 305/70R17 tire on a +18 wheel with no trimming – 35x12.50 with trimming modifications.
• Kit includes all-new CNC-machined aircraft-grade 6061-T6 billet Aluminum front and rear top mount spacers.
• No modifications or cutting is required to install.
• Includes our ReadyLIFT ReadyGuard Powertrain warranty.
Includes:
2 front strut spacers
2 rear strut spacers
Hardware Pack
Installation: Here
Estimated Installation Time: 4.5 Hours +/- 0.5 hours (excluding alignment and wheel/tire assembly)
Fitment: 2021-2023 Ford Bronco
Share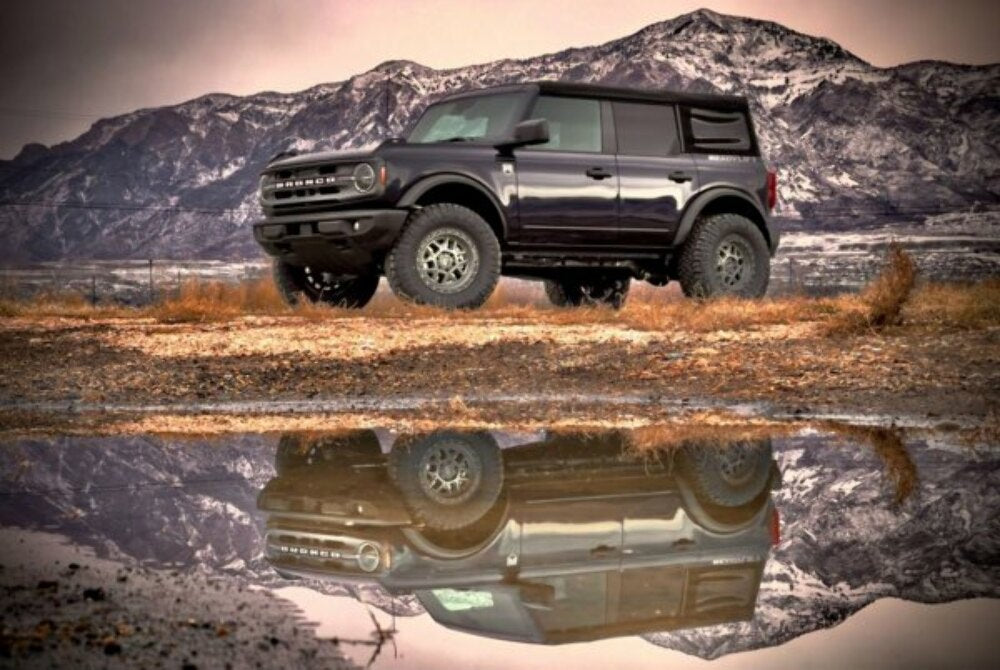 Free Shipping

Every product on TickleMyBronco ships for free to the lower 48 states. Free shipping on everything!

Hassle-Free Exchanges

Not what you wanted? Doesn't fit as you want? No problem! Give us a call for hassle free returns!